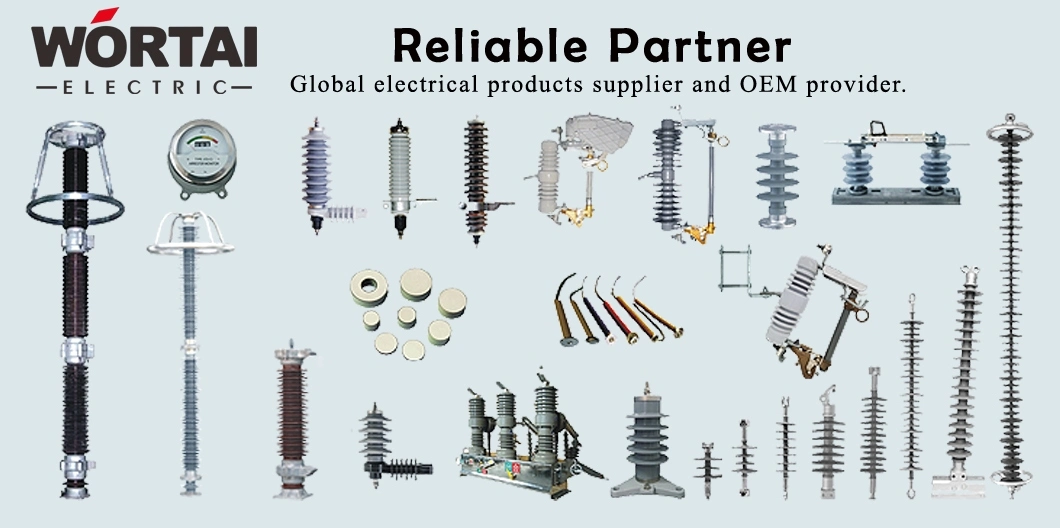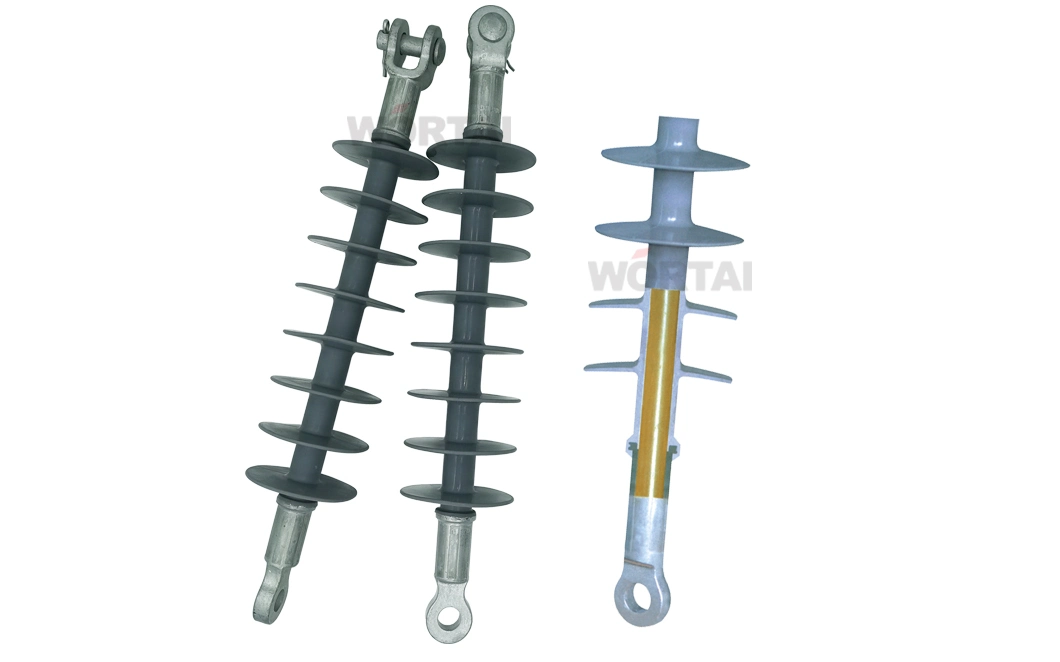 Production Process of P

olymeric Deadend Insulator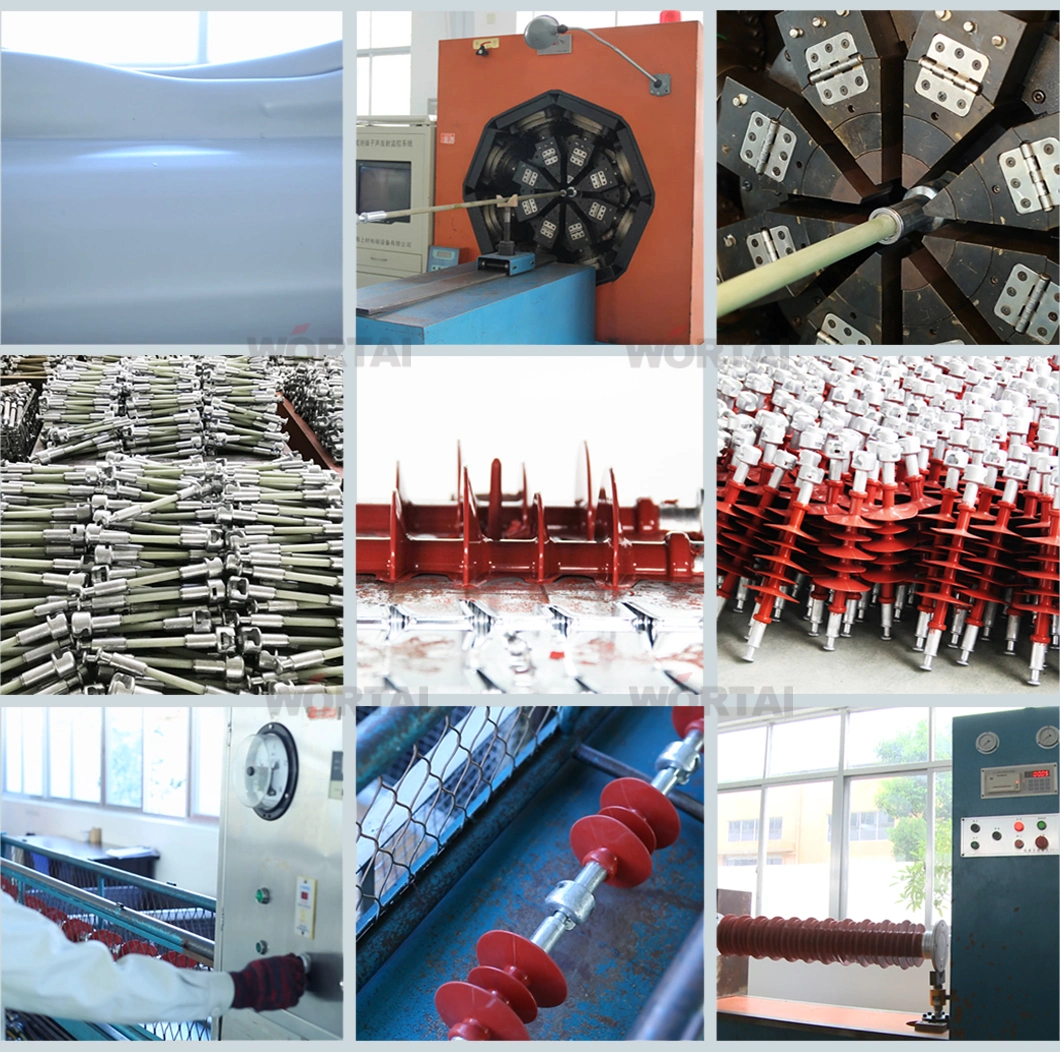 WORTAI polymeric insulators DS series are use for electrical power distribution suspension or dead end instalation, replacing the the conventional porcelain or glass chains. Polymeric insulators produced initially from a fiberglass rod (core) which is fixed to the metal fittings (clevis and tongue in special forged steel with hot-dip galvanized coating) and later then insulating envelope (in high quality silicone rubber) is applied on this set, resulting in a compact, light insulator of great mechanical resistence and highly resistant to weather conditions. The main advantage with the use of WORTAI DS series insulators are:
•
The housing and sheds of the insulator are made of silicone rubber, one shot injection moulding; this ensures
that the interface between the rubber and rod is impenetrable against moisture ingress.
•
The core rod of insulator is made of a fiberglass that has excellent electrical and mechanical strength.
•
Leakage current surge suppression due to high level of hydrophobicity of silicone rubber.
•
Better performance in polluted areas.
•
Light weight for handling and installation.
•
The silicone insulators are manufactured and tested according to the standards ANSI C29.13 and IEC 1109
Los aisladores poliméricos WORTAI de la serie DS se utilizan para suspensión de distribución de energía eléctrica o instalación en callejón sin salida, reemplazando las cadenas convencionales de porcelana o vidrio. Aisladores poliméricos producidos inicialmente a partir de una varilla de fibra de vidrio (núcleo) que se fija a los herrajes metálicos (horquilla y lengüeta en acero especial forjado con recubrimiento galvanizado en caliente) y luego se aplica una envoltura aislante (en caucho de silicona de alta calidad) en este conjunto , resultando en un aislante compacto, ligero, de gran resistencia mecánica y muy resistente a las inclemencias del tiempo. La principal ventaja con el uso de aisladores de la serie WORTAI DS son:


•

La carcasa y los cobertizos del aislante están hechos de caucho de silicona, moldeado por inyección de un solo disparo; esto asegura
que la interfaz entre el caucho y la varilla es impenetrable contra la entrada de humedad.


•

La varilla del núcleo del aislante está hecha de fibra de vidrio que tiene una excelente resistencia eléctrica y mecánica.


•

Supresión de picos de corriente de fuga debido al alto nivel de hidrofobicidad del caucho de silicona.


•

Mejor desempeño en áreas contaminadas.


•

Ligero para manipulación e instalación.


•

Los aisladores de silicona están fabricados y probados según las normas ANSI C29.13 e IEC 1109

SPECIFICATION

UNIT

CATALOGUE NUMBER

FXBW-15/70

FXBW-28/70

FXBW-35/70

FXBW-46/70

Voltage Class

kV

15

28

35

46

ANSI Class

-

DS15

DS28

DS35

DS46

Specified Mechanical Load (SML)

kN

70

70

70

70

Section Length

mm

330

445

482

559

Dry Arcing Distance

mm

203

311

345

426

Leakage Distance

mm

420

660

800

954

Low Frequency Dry Flashover

kV

110

130

150

180

Low Frequency Wet Flashover

kV

75

110

135

145

Critical Impulse Flshover(Pos.)

kV

140

200

235

280

Critical Impulse Flshover(Neg.)

-

160

225

255

290

Number of sheds

-

4

6

7

9

Note:The catalogue in the above table are for "CT"clevis-tongue fittings. For other combinations of end fittings,

specified mechanical strengths or require a longer creepage distance etc, please indicate before ordering.
Test and Inspection Equipments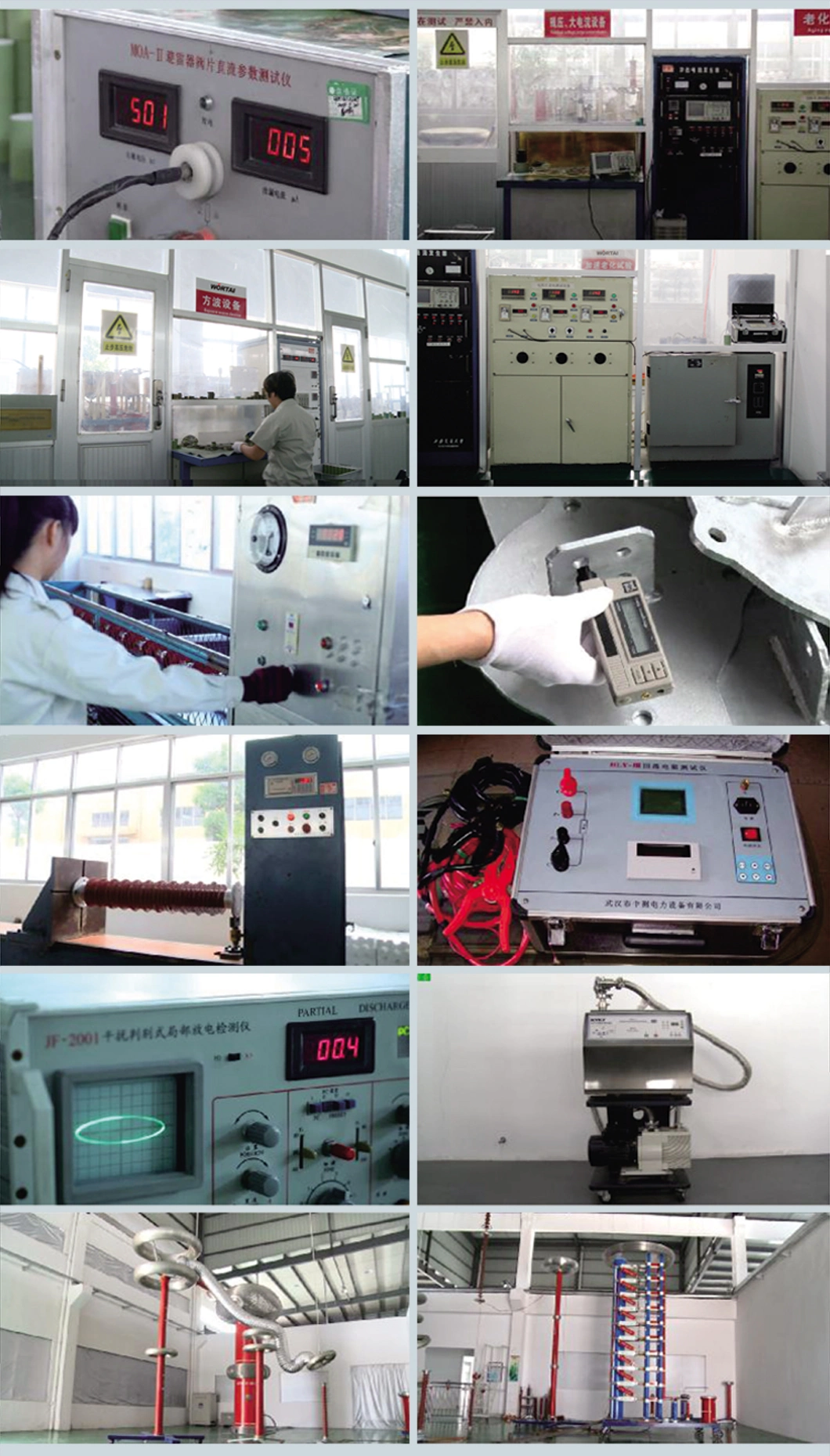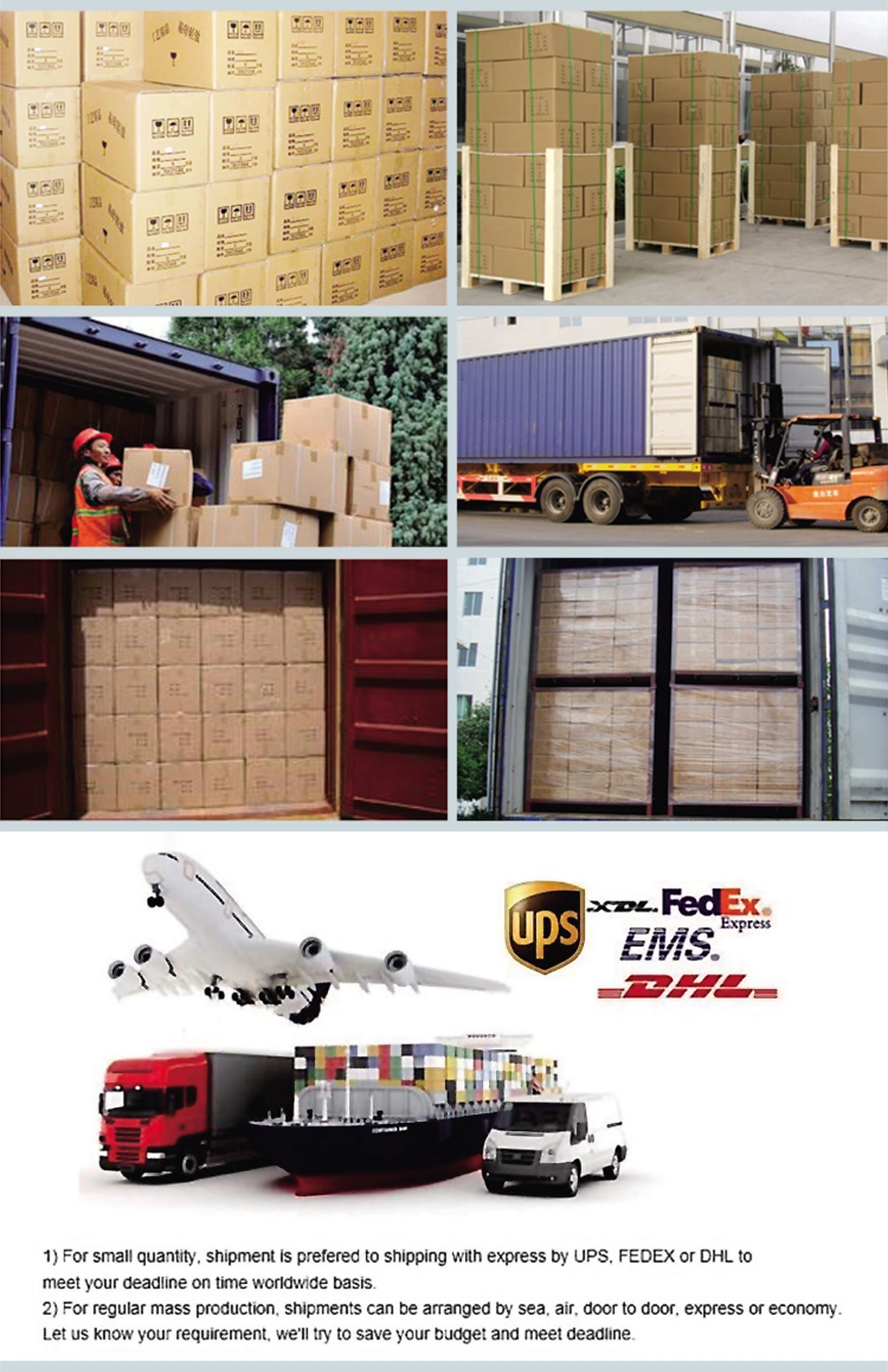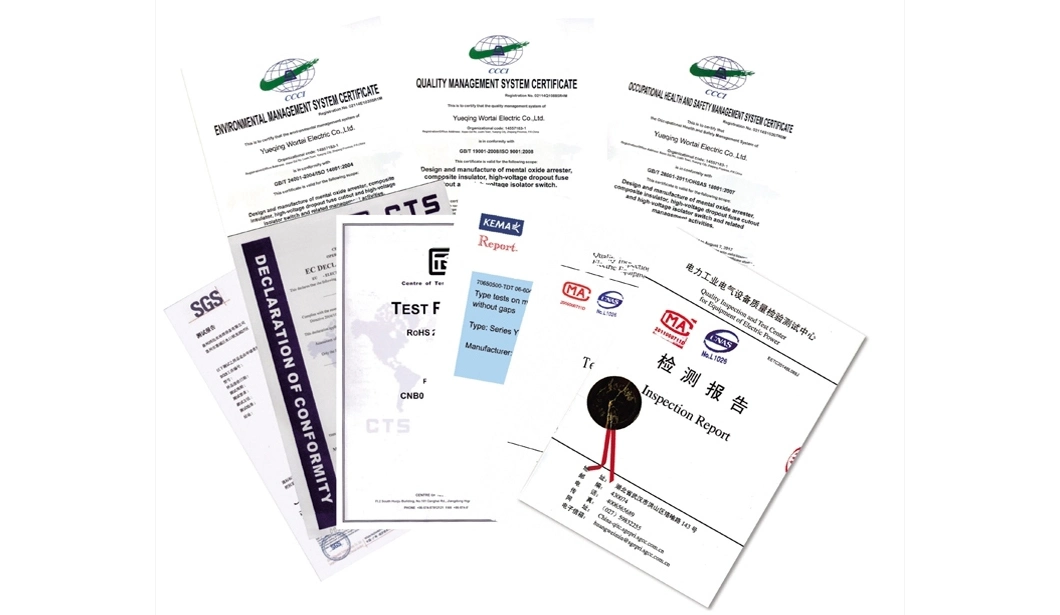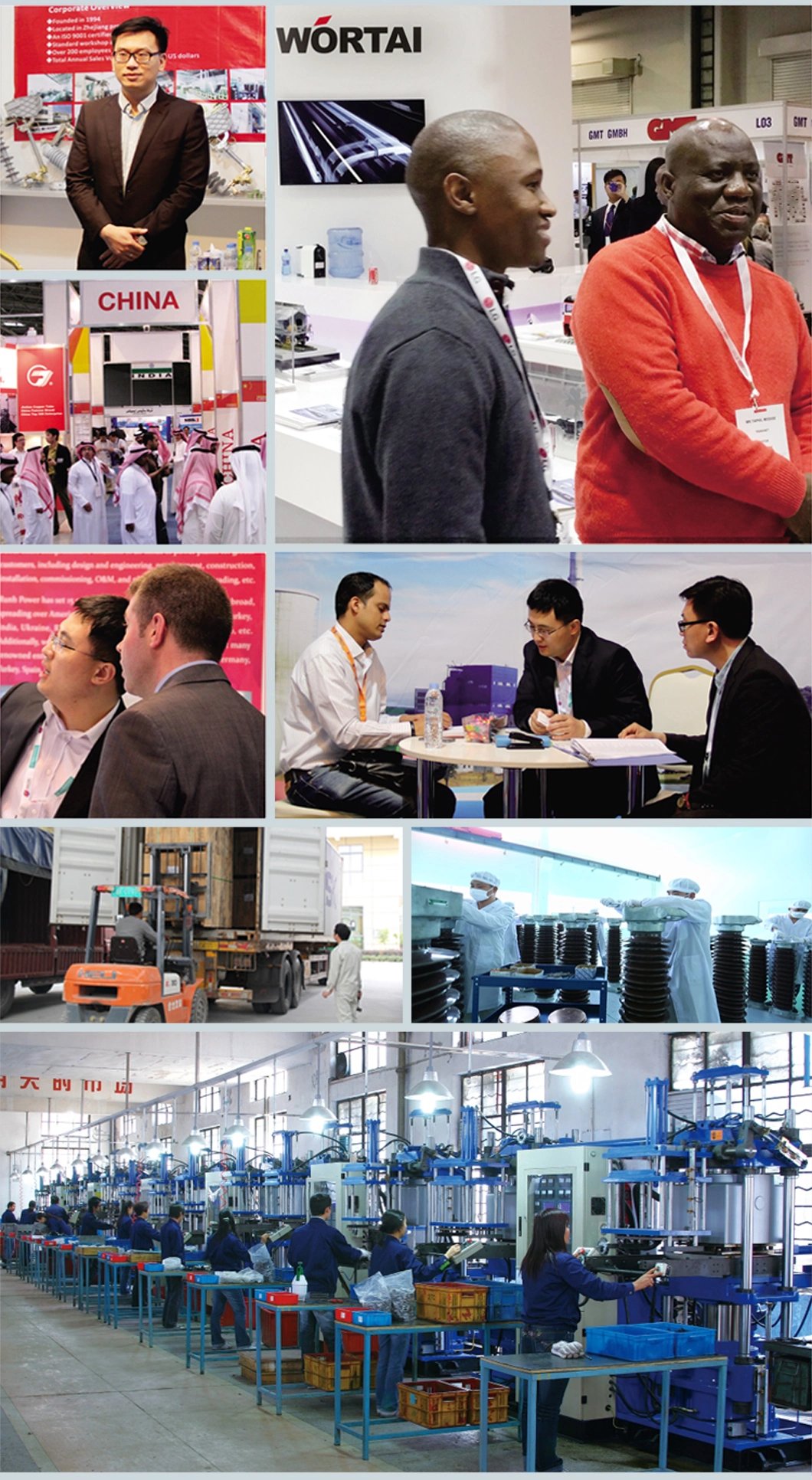 *
More than 20 years manufacturing experience in electric power industry
*
Top quality products, ISO9001, ISO14001, KEMA, CNAS certificates
*
Custom tailored products, OEM & ODM are welcome
*
Challenging prices for giving customers the greatest benefits
*
Fast response time, we promise to reply customer's email within 24 hours
*
Attractive lead times, plenty of equipments and workers to ensure the delivery on time
*
Top skilled technicians
*
Flexibility
WORTAI have been sold to over 20 countries and regions, spread all over Asia, Africa,
Middle & South America, Middle East and Europe, we also has done OEM service for some world famous brands.Choosing WORTAI means
being one step ahead of the general development. We look forward to a closer relationship and mutually beneficial cooperation with
any prospective customers in the near future. WORTAI will work with you shoulder-to-shoulder to satisfy your needs.
With competitive price, good quality and best service, WORTAI will be your most wise choice. Together we're winners! Let's do
it right now!